Dr. Vassilis Nikolopoulos

Head of Applied Research & Development / Innovation – Energy Unit, Mytilineos SA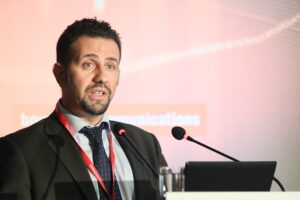 Dr. Vassilis Nikolopoulos
Head of Applied Research & Development / Innovation
Energy Unit, Mytilineos SA
Intelen Co-founder
http://vnikolopoulos.com
Linkedin
Doctor of Engineering of NTUA in Energy Informatics and Mathematical Algorithms, an active entrepreneur, but also an Executive with 20 years of experience in creating new innovative products and services, corporate innovation management, and successful process of digitization of products, services, and processes. He managed to transform his doctoral research into a globally innovative product.
Founder of deep tech company Intelen, Inc., based in New York, one of the most successful scale-ups Greek companies in the field of energy, which dealt with the analysis of energy data and the digital interaction of humans with energy consumption. He has collaborated with more than 40 utilities in Europe and America (including Mytilineos, etc), in the fields of innovation, Artificial Intelligence, machine learning, digital energy, energy analytics and has designed and created 4 B2B global platform products for the field of Energy ( Intelen DiG), with over 1 million energy users. He is Head of Applied Research and Development Protergia Innovation, MYTILINEOS, where he directs and coordinates research activities, innovation actions, new products and services, Energy Digitization and development activities of Protergia, based on the multi-year know-how and technologies of Intelen (IP M&A).
He focuses on ways to translate innovative research results into products and services (Technology Transfer through Design Thinking processes). He is an EU (2020) Energy and Entrepreneurship expert and a member of the Frontiers Editorial Board in the field of BlockChain. He has worldwide awards and prizes in the fields of innovation and new business ideas (OECD, Silicon Valley, Kouros Award, Cebit). His work includes a book on computer networks and more than 50 publications and articles on energy, innovation, and technology. He was a member of the National Council for Competitiveness and Development (ESAA, Innovation sector) in 2012 and he is a visiting Lecturer at NTUA, AUTh, PAPEI, and the University of Nicosia.
He is a mentor in the business accelerator StartupBootcamp and is in the top 100 rated mentor at the Founder Institute (FI) as well as a seed investor in many new technology startups. Excellent Electrical Engineer at Dundee University, with extended studies at Imperial College, the London School of Economics, the French Ecole Polytechnique, and a doctorate from the National Technical University of Athens.

Client Name

Date Completion

Categories:

Share: