George Katsouranis

General Manager – Deputy Group CHRO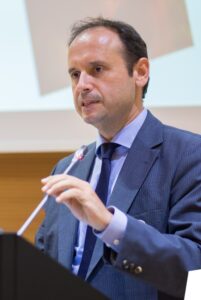 General Manager – Deputy Group CHRO
Human Resources Business Partners & Talent Acquisition
George Katsouranis currently holds the position of General Manager and Deputy Group CHRO in Group Human Resources, while at the same time he is the CEO of the Centre of Sustainable Entrepreneurship Excelixi S.A. in Piraeus Bank Group.
Within Piraeus Bank Group, he had the opportunity to lead several important projects and interventions, promoting entrepreneurship, intrapreneurship, innovation and quality. He has also actively contributed in many major projects such as all critical restructurings, mergers and acquisitions Piraeus Bank Group completed over the last two decades.
He actively participates in business fora, think tanks, networks and committees. Until recently he served as a member of the Board in GAIA Epicheirein S.A. and in Hellenic Management Association (EEDE) and while being President at the Hellenic Institute of Human Resources Management (EIMAD).
He holds an MBA from ALBA Graduate Business School and a BA degree in International and European Studies.

Client Name

Date Completion

Categories:

Share: